How We Help
Corporate Seals
The right image for your organization is key – to your brand, your reputation. A custom-designed seal using a die cut from our inventory, such as a starburst die, certificate seals or anniversary seals, helps you stand out in the crowd. K.C. Decorative Seal has the custom foil logo emboss seal you want and need.
Corporate seals create a powerful image for your business.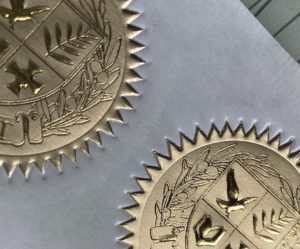 Enhance your organization's professional image and identity with a custom-designed seal.
Use as a final "seal" of approval on envelopes, reports, insurance forms or other official company correspondence.
Add the finishing touch to letterhead, business cards, presentation folders, sales literature, thank you cards, invitations and more.
Graduation certificates often have a starburst seal showing the school graduated from.
Take a look at our photo gallery for more ideas and inspiration.
All labels are made in-house on our own equipment. No outsourcing for us!