Frequently Asked Questions
Resources to Help You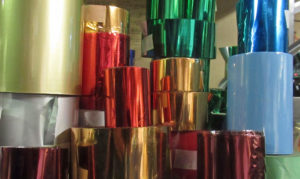 When you have questions, K.C. Decorative Seal is here to help. What do you need to know about embossed seals, custom labels, custom tags or enclosure cards? What should you expect from us? Maybe you need to know more about how we die cut foil stickers.
Look through these tips and frequently asked questions to see if your question has been answered. If not, email us and we'll be happy to help!
K.C. Decorative Seal Resources
Your Seal Artwork
Your seal artwork determines where the embossing is done. Your logo can be embossed, with ink color in the background or the logo can be printed in an ink color, leaving the background the material.
Our presses produce embossed seals on rolls.
Engravings are also available with special pricing. These dies are multi-level and give true definition to your image emphasizing different levels of embossing. They are beautiful and usually made for special projects.
What file formats will you accept?
Artwork files accepted include: PC, editable or vector PDF files, Illustrator CS6, ai or eps. We need vector artwork for editing. Files should be prepared for the PC. We do not currently operate on mac computers.
Will you accept digital art?
Yes, we can accept most existing digital artwork and prepare it for your order. Your design needs to accurately reflect the true trim size.
Remember to plan color for printability; colors cannot touch. We can also accept art files in CMYK black and white.
What if I don't have art in a digital format?
If all you have is an idea, email us a sketch. We can help by setting type and doing artwork to ensure your seal is prepared for our printing process.
How do I place an order?
We keep the order process as easy as possible for you. Contact us online: kcdecor@kcdecorativeseal.com. Or call us at (816)474-4516. We will connect you with sales or a distributor depending on your need.
What is your minimum order?
We like to stay with a 3,000 minimum quantity order; however, we are happy to accommodate special quantity requests.
What is your process? What should I expect from you?
Your rough draft and ideas will be followed as closely as possible before a proof is submitted to you. Layouts are then proofed before we proceed with production. An approval is required. We strive to give you the best quality embossing in the industry.
What if I have to have a die specially made?
Our dies are made locally. They are lazier cut for complete accuracy and produced in a timely manner. If you need a custom shape or configuration of shapes not currently available, special dies can be made at a reasonable cost.
There is a one-time set up charge for cutting the die. Charges depend on the complexity and square inch of your specifications. We do require an accurate, 100% line drawing of your detailed requirements.
How long will it take to print my labels?
Our turn-around time does vary. New orders normally ship within 2 to 3 weeks once we receive the approved proof. We typically ship repeat orders in 2 weeks or less.
What is the difference between emboss, deboss and hot stamp?
Emboss is a raised image. Deboss is a printed image. Hot stamp is a method of printing in which heated stamping dies are pressed against thin gold or silver leaf onto a surface of paper or foil. All colors can be printed flat or raised. This adds a very distinctive look to your image.
What material do you use for seals?
We use pressure paper foils. It is above standard weight. Paper foil is available in bright and dull gold and silver.
We also use Kraft, mylar and other paper stock.
How many ink colors can I choose from?
We have 32 ink colors plus we offer metallic gold, silver and metallic brown.
Send PMS numbers for special ink color mixes. An additional charge will apply,