How We Help
Markets We Serve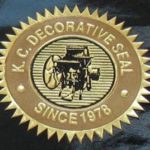 K.C. Decorative Seal manufactures your seals, labels, tags and cards in-house in our own facility … that means we oversee and control the process from start to finish down to the smallest detail. From embossed starburst stickers to anniversary seals, corporate seals, certificate seals, award seals, custom tags and more to meet your business needs.
We work with a variety of industries and sell our products in both the retail market and through distributors.
Learn more about the K.C. Decorative Seal products.
What Makes Us Different?
Die cuts on rolls produced with letterpress.
Inks that are durable and lasting.
Foils are heavily embossed on rolls.
Fonts of your choice to personalize your image.
Emboss, taking your image to the next level.
Rolls are handy and easily distributed – all done on our letterpress.
Every detail is examined.
Numbers can be done in combination.
Truly elegant.
K.C. Decorative Seal has been providing embossed seals, cards and tags to most major universities, municipalities and gift wrap accessory distributors.