In-House Capabilities
Experience & Expertise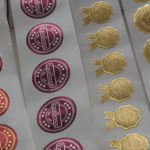 Today's low cost, volume printed seals do not compare to our high-end gold foil, silver foil, embossed seals and hot stamped labels. Our vintage, high-quality process is manufactured here in the United States and provides our customers with unique die-cut seals and enclosure cards. K.C. Decorative Seal focuses on creating high-end customized embossed seals, custom labels and personalized stationery to meet your business needs.
Letterpress Printing
Originating in the 1400s, Letterpress printing is one of the oldest of the traditional printing techniques and we are proud to say that it is one of K.C. Decorative's core capabilities.
Letterpress provides a classy look and feel that the digital printing process cannot. We use it to create labels, stickers, business cards, invitations, seals, gift enclosure tags, address labels, product labels and more.
Letterpress embossing on foils whether blind or using inks is still an elegant look.
Our Inks
Our inks are thick and paste-like in nature, giving good coverage and making them long lasting. It's worth the wait for overnight drying to have curable ink covering your product labels.
We mix PMS shades to match your gift wrap packaging, whether it's your paper design, ribbon color or any part of your color scheme.
Our standard colors are the primary and secondary colors, plus black, white, silver and gold. Any shade can be made if you submit a color sample that we can mix to match to. Ink can be shaded but hot stamp colors come off the roll as is. We use both inks and hot stamp ribbon colors.
Embossing
Embossing is producing a raised type font, illustration or image on foil.
This standard process of our company started in 1902. Owning our old embossing letterpress equipment has it's roots deeply embedded into the true embossing process and is still a genuine source of pride for K.C. Decorative Seal.
We create the deep embossing used throughout the 20th Century and it continues today with our second generation.