How We Help
Anniversary Seals
It's easy to let customers know when milestones and anniversaries  are reached. In today's world of mergers and acquisitions, custom-crafted anniversary embossed seals remind customers of your longevity and stability. K.C. Decorative Seal has the decorative embossed seals you want and need.
Celebrate milestones … Express your appreciation with style … Embossed Seals.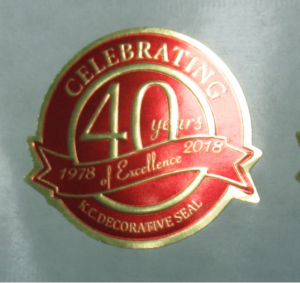 Announce your business anniversary by creating a distinctive decorative embossed seal.
Make recognizing a customer, employee – anyone – a little more memorable.
Dress up presentation folders, letterhead, invitations, awards, certificates and more.
Use a custom-crafted seal to give your certificates authenticity.
Take a look at our photo gallery for more ideas and inspiration.
All labels are made in-house on our own equipment. No outsourcing for us!