Starburst pressure-sensitive labels are an easy and affordable way to add a touch of professionalism to your products, packaging, communications and more.
Show your customers that you pay attention to details, down to the stickers you use – from product tags to shipping labels to your internal communications.
Create a label that has a classy, sophisticated look using silver or gold foil. Make your products recognizable. Make those milestone achievements pop with starburst-shaped labels.
Starburst pressure sensitive seals are used to:
Dress up certificates, awards, and recognition.
Add that finishing touch to government documents including notary seals.
Customize presentation folders and binders.
Add a little personality to product packaging.
Reflect your company's brand or showcase your logo.
Draw attention to special pricing and offers.
Emphasize unique product features.
Seal your correspondence, personal or professional, with your initials or monogram.
The traditional starburst design adds a touch of class to any embossed image. They attract attention and stand out.
The presentation of your products says a lot about your business. Starburst pressure sensitive seals can provide the finishing touch, help you stand out and create a lasting impression.
Starburst Diecuts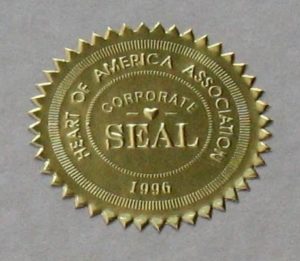 Die-cutting is the process of cutting your pressure sensitive labels into your desired shape. Many companies only offer standard cut shapes like circles, squares, and rectangles.
We custom design starburst stickers for a variety of industries, including government, municipalities, and corporations. Our 3,000+ dies and palette of ink colors enable us to match brand colors and unique shapes and sizes, crafting it to your exact specifications.
Let's Talk!
Are you ready for your own starburst label? Need a sample? Have a question? Contact us through our website or send an email to kcdecor@kcdecorativeseal.com.
Located in the heart of Missouri, K.C. Decorative Seal offers you labels meticulously created by a manufacturer with custom capabilities. Quality products. Exceptional service.